April 21, 2005 – 7:00 am
For today's edition of the NPR program "Day to Day," I report from the recent live performance in Los Angeles by Survival Research Laboratories, the granddaddy of all robot/machine performance groups.
Before there were robot wars, before there were Monster Garages, there was SRL. Founded 25 years ago by Mark Pauline in San Francisco and comprised of an evolving cast of machines (and their human operators), SRL produced "ritualized interactions between machines, robots, and special effects devices." Mostly, though, it just sounds and feels like the end of the world.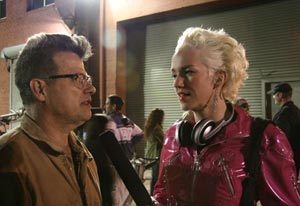 For Day to Day, I went to the group's recent LA extravaganza and spoke with Mark Pauline (being interviewed, above), technicians Violet Blue and Karen Marcelo (a former Boing Boing guestblogger), and audience members. Attendee Michael Perry of Los Angeles described it best when he said "It's like a giant postapocalyptic monster truck rally, without the trucks."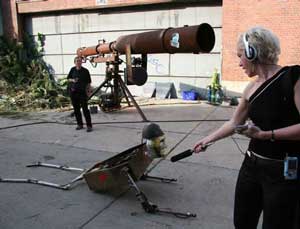 Technical note: SRL shows are really, really loud, and full of smoke and sparks and machines that shoot blasts of air strong enough to kill a person. I had a hard time gathering sound, because my poor little minidisc recorder kept triggering a built-in limiter any time an Extremely Loud Thing happened (which was, oh, every 0.5 seconds). It worked out in the end, as you'll hear in the NPR piece. But for all you future SRL podcasters — or anyone trying to record a war, because they sound the same — take a good look at your device in advance, RTFM, use the right kind of mic, and make sure you have manual control over any limiter function so your explosions aren't muffled.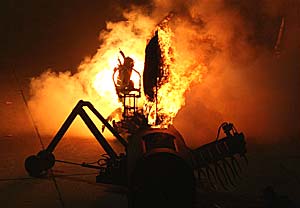 More photos: Scott Froschauer: Link Josh Kirschenbaum: Link. Mack Reed: Link. Scott Beale: Link.
The crowd was an interesting bunch of bipeds — and others. This is my favorite, and here's another, because Bruce Sterling rules.
Here are snapshots I shot with my Treo, and here's a grainy little Treo video I shot of Violet Blue operating a gigantic lethal machine: Link (3G2 format). There are many more photos (plus video) at SRL: Link. (Photos in this post all courtesty of Scott Beale)
Link to archived audio on NPR. Link to more archived "Xeni Tech" segments on NPR.