June 27, 2006 – 9:51 pm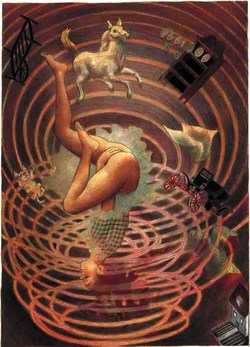 Violet Blue has posted some sneak previews of an amazing new work by graphic novel master Alan Moore (previous works: Watchmen, From Hell, V for Vendetta, and the first two sets of League of Extraordinary Gentlemen, The Killing Joke, and Brought to Light).
His newest: a series of works titled "Lost Girls Collected," created with illustrator Melinda Gebbie. Violet says:
"[It features] explicit sex — portrayed in a compelling, highly pleasurable way. Like the setting of League of Extraordinary Gentlemen, Lost Girls has Moore revisiting characters from Victorian fiction, where the main female characters from Neverland, Wonderland and Oz meet as adults in a strange hotel in 1913 to set out on a sexual adventure together."
And Moore explains:
"It presents this material in a way which is every bit as sensual and beautiful and at times, startling, as the actual sexual act itself can be. I think that was probably why we did it. The sexual imagination, which is the biggest part of sexuality, is not well served in our culture, and I really don't understand why that should be.

The only way that we can talk about or refer to sex — we have two choices: we can either do it in grubby works of pornography that will be read by people who are desperately ashamed of what they are reading, or we can discuss sex in the clinical manner of sex manuals or The Joy of Sex. Neither of these things have got anything that I, or probably most other normal people actually associate with our sexuality."
More images, and more from Moore about "Lost Girls," are in this post on Violet's blog: Link.
But the London hospital that owns the rights to J.M. Barrie's "Peter Pan" story is upset that Moore appropriated the iconic character Wendy for the graphic novel (she's in good company: Dorothy from "The Wizard of Oz," and Alice from Wonderland are in there, too):
"We understand this graphic novel involves characters from the story of J.M. Barrie's Peter Pan & Wendy, which is, of course, in copyright in the U.K. and EU," the Great Ormond Street Hospital for Children said in a statement about Moore's book.

The hospital, which was bequeathed the rights to the "Peter Pan" books by Barrie, said: "In order to be published or distributed in these territories, Alan Moore's title would need our permission or license. From press coverage, we understand it deals with
sensitive subject matter which does not initially seem appropriate to be associated with the hospital and with J.M. Barrie's legacy to us."

Stephen Cox, the hospital's spokesman, said Friday that it has not taken legal action against Moore and is was waiting to see whether the author will contact the institution to discuss its objections.
Link to news story. (thanks, Violet!)