July 18, 2005 – 6:30 am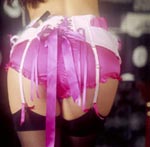 "Pale pink satin accessories belt with detachable suspenders, fuchsia pink corset ribbon closing at back. Included with the belt is a pair of black sequinned nipple tassels, a pair of black silk wrist ties and a fuchsia pink blindfold. It has various loops and ties for customizing your own tool belt." Yeah, whatever. But I wonder if you could fit a soldering iron and some drill bits in this thing.

Link (Thanks, Violet Blue, via touchesexy)
Reader comment: John Klima says,
The best thing about the sexy tool belt is that it is also available from Mall-friendly Victoria's Secret through their online store: Link. Much to my surprise, Vicky's Secret also sells handcuffs: Link. Just what every middle American was looking for!