March 11, 2006 – 8:02 pm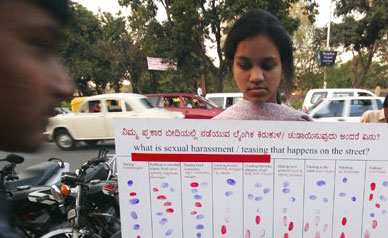 I'm several days late getting to this one, but better late than never: Violet Blue tells BoingBoing,
The Blank Noise Project is a blog-a-thon that Indian women did on March 7 to raise awareness about "eve teasing." This extreme form of public sexual harassment happens to women in India all the time — from horrifically early ages, onward. Women and young girls are threatened for wearing jeans and t-shirts, their tits are grabbed and pinched by any man who wants to, and more. The list of female Indian bloggers is really amazing to look at and their blogs are fascinating, from their excellence in English to the frightening stories of harassment they tell, and the other details of their lives, like trying to decide daily fact from fiction with bird flu hysteria.
Link (via Mark Pritchard)