May 1, 2006 – 5:59 pm
BoingBoing pal Todd "Telstar Logistics" Lappin shot photos of demonstrations in San Francisco today, including this one, a skyscraper's-eye view of the crowd moving down Market street. Link to Todd's photos from today's SF protests.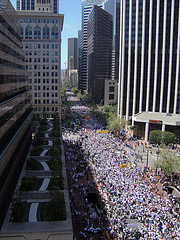 At left, another photo of SF "Day without an Immigrant" protests from above, this in the opposite direction. Via Violet Blue on sf.metblogs.com. Link to full-size.
BoingBoing reader Julie Ruvolo in San Francisco says, "I posted some photos and short videos on my blog this morning — our office overlooks Market Street." Link
Related BoingBoing posts about the May 1 marches: Tampa, Los Angeles part 1, New York City, Tijuana, Portland, Chicago, Seattle, Los Angeles part 2, Los Angeles part 3. An update on reports that police used excessive force on protesters in MacArthur park is here.